A short story by Bekah Ferguson.
(32 min read)
"Ghosts are the superstitious nonsense of heathens, son," Pa used to say, but I'd been haunted by one in the forest behind our homestead through much of my childhood.
I was about five years old the first time I saw it. A white entity moving deep within the trees at dusk. Then again one grey afternoon a couple of years later when I was mucking out the stable, and heard a crackle of movement on dead leaves. Gripping my shovel in front of me like a protective spear, I peered into the nearby treeline from whence the sound had come.
We lived in a forest in Upper Canada, trees furrowed and thick, undergrowth prolific and tangled. In some directions you could trail-blaze for days without encountering a single trading post or homestead. Yet there it was some fifty feet within and as tall as a man: a flash of white appearing for a second between tree trunks, disappearing behind others, and reappearing again as it seemed to float along. However, though I strained to see its contours, I could not piece together its form; and as soon as it was there, it was gone.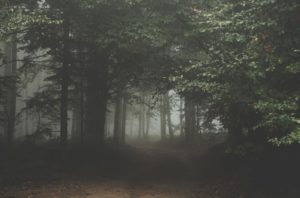 These apparitions occurred only once or twice a year and always in the same manner: at dusk or predawn, and only when I was working quietly by myself. The times when I helped my father chop wood and gather kindle from the forest, I always kept an eye out for it, but whether due to the reverberating splitting sounds, or the trampling of twigs beneath our boots, it never showed itself when I was with him.